Anatolian Bey Principalities

Large Turkish groups that had set in motion in the Middle East one thousand years before had continued their movement from the east towards the direction of Azerbaijan- Eastern Anatolia- Iraq- Iran.


In the period between the establishment of the Great Seljuk State and the Manzikert victory (1071), the Turkmens had surpassed the Anatolian borders and expanded towards the eastern and central regions of this country. Pursuant to the Manzikert victory, the resistance of the Byzantine was totally eliminated, and upon this success, they attempted to conquer the rest of the regions in Anatolia. Anatolia had become a new homeland for Turks. Some of the big emirs and beys such as Artuk, Tutak, Danismend, Satuk, Mengucuk, Savtegin and Afsin, etc. had joined in the Manzikert war together with the Sultan Alp Arslan. Some of these beys had established Turkish bey principalities in the Eastern Anatolia since the year in which the Manzikert victory had been won.

1344 was the year of the absolute collapse of Ilhanli Empire and the Turkmen bey principalities were dominant in Anatolia in this period. The Anatolian lands that were not under the domination of these bey principalities did not have any political or military significance although they were wide in area.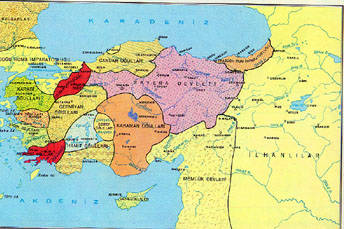 Osmanogullari principality had captured the city of Izmit and defeated the Byzantine Emperor in the pitch battle of Pelekanon. They had also subdued the Karasiogullari principality and started to threaten the Ahi Republic (Republic of trade guilds) in Ankara. Then, they expanded towards the regions under the influence of Karamanlilar principality and their ruler had absolutely become the most prestigious ruler in Anatolia (Osmanoglu Orhan Bey had ascended the throne).


Karamanogullari principality had conquered particularly the Eretna State and some of the lands pertaining to their neighbours, but they could not reach and acquire the prestige that the Osmanogullari principality had. They had dominated in Konya that was the old capital city of Turkey, but this did not constitute any significance when compared with the geological position of Osmanlilar principality.

When the peninsula of Kocaeli had been conquered by Osmanogullari principality, the Byzantine had been nearly disconnected from the Anatolia. Osmanlilar principality had abolished the Karasi bey principality and they were on the verge of extending towards the Straits of Dardanelles.

lonely wolf

Binbaşı




عدد الرسائل

: 1156


العمر

: 35


العائلة التركمانية

: oğuz Salur


تاريخ التسجيل :

15/03/2008



That is very good mr. Lonely Wolf



Forums mngr

_________________
من أجل تركمان مُوَحّد
Birleşmiş Bir Türkmen İçin

, THANKS LONELY WOLF FOR YOUR GREAT SUPPORTING YOU ARE GIVING TO OUR ENGLISH FORUM BUT I REQUEST YOU TO MENTION THE SOURCE OF YOUR VALUABLE TOPIC
BEST WISHES KARDASH


وسيم حجوك

Üsteğmen




عدد الرسائل

: 617


العمر

: 45


العائلة التركمانية

: oğuz Begdili


تاريخ التسجيل :

11/03/2008



in turkish, there is nice adage, here it is
TURKUN AYAK BASTIGI HERYERDEYIZ
it means: turkish people footsteps are everywhere
really u r active member lonely wolf bey
ty very much

afrasiab

Asteğmen




عدد الرسائل

: 480


العمر

: 32


الموقع

: دمشق - الحجر الأسود


العائلة التركمانية

: oğuz Salur


تاريخ التسجيل :

12/03/2008




Afrasiab brother u r a great i am admirer in your topics
Wasim Kardeş I sended to you good link please open this link and wish to me good future

With best regards
Lonely Wolf


lonely wolf

Binbaşı




عدد الرسائل

: 1156


العمر

: 35


العائلة التركمانية

: oğuz Salur


تاريخ التسجيل :

15/03/2008





Afrasiab brother u r a great i am admirer in your topics

Wasim Kardeş I sended to you good link in a special word please open this link and wish to me good future



With best regards

Lonely Wolf



lonely wolf

Binbaşı




عدد الرسائل

: 1156


العمر

: 35


العائلة التركمانية

: oğuz Salur


تاريخ التسجيل :

15/03/2008




---
صلاحيات هذا المنتدى:
لاتستطيع
الرد على المواضيع في هذا المنتدى